BOOKCASE CHAIRS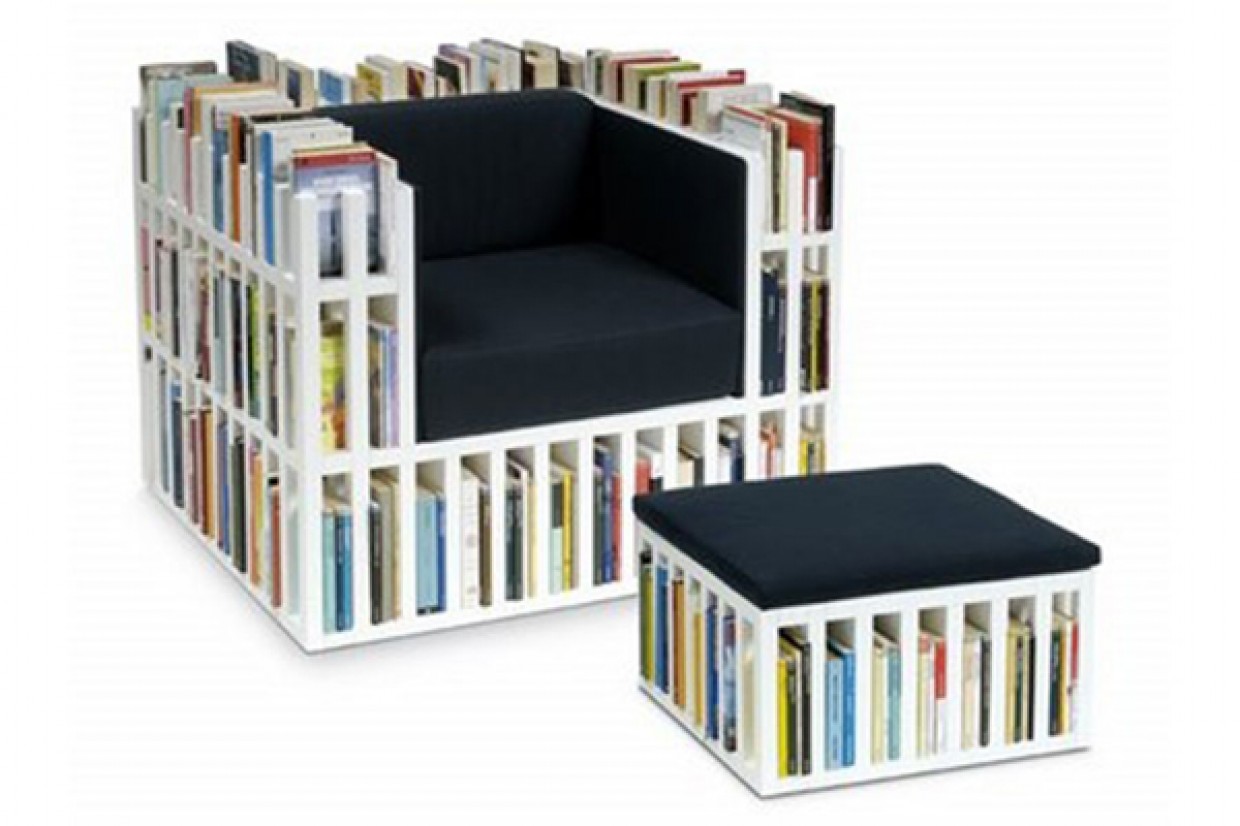 When I purchased my kindle, part of me did believe I would do away with my heaving bookcases. Problem is, I just love the aesthetic of a room full of books and especially book-dedicated furniture. Here's my round up of some great chairs and seating for the bookworms out there.
Since I first wrote bookcase furniture in 2011, many of the pieces seem to have fallen out of production (or never made it past the prototype stage) so I will apologise in advance if you can't get your hands on the particular piece anymore.
The Bibliochase, and pouff was originally made by nobody and co and is probably the most recognised bookcase chair. Comfy looking and available in a bunch of finishes, it's perfect for so many spaces.
This bookcase chair designed by architect Gail Peter Borden is basically a little flat pack number with some serious style. Although it doesn't really look comfy enough for my liking, it would look great as a statement piece. I also have a soft spot for this piece after I saw Gail Peter Borden had photoshopped his chair into the classic image of Case Study House 22 by Julius Shulman. Sadly it doesn't seem to be in production anymore.
Comfy Cargo Chair by Stephen Schulz is one that I can only assume was named ironically. Whilst again, it's a nice idea in theory, Its one of those storage solutions that perversely seems to increase the appearance of clutter even though the concept behind it is quite nice.
The Ransa sofa by Younes Duret is a lovely piece and wonderfully versatile. I'm not sure if you can buy that particular one, but the Souk'na does seem to be a possible purchase which I really like.
The 'Lost in Sofa' chair designed by Daisuke Motogi is a chair I absolutely love. It's probably not really for storing books as such, but it seems to be a pretty perfect place to put them (and everything else) when in use.
Open bookcase chair by studio tilt is a great piece for when you want to shut yourself away in your own little world. I'm not sure why waiting rooms are full of them.
I love this little Sunflower chair and am really quite sad its still not in production. It was created by designers He Mu and Zhang Qian from the Shanghai University of Engineering Science and won the Redtory Design Award at the Design for Sitting Gran Prix competition in Guangzhou, China.
"Lese + Lebe" (read and live) was designed in 2004 by Nils Holger Moormann, the man behind the Bookinist Chair. It a great piece of furniture to easily create a little reading nook in your house.
The 'Cave' by Sakura Adachi sold by BK library interiors is a piece that I like more in theory that execution and is something that would be a wonderful idea for a room divider. I just also love her little one for the pets in your life